You are here
October 17, 2017
Progress on two Ebola vaccines
At a Glance
Two test vaccines for Ebola were safe and induced lasting immune responses in a study with 1,500 adults in Liberia.
The findings are an important step in the development of a vaccine for Ebola virus disease.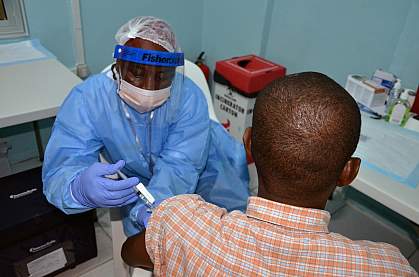 Partnership for Research on Ebola Virus in Liberia (PREVAIL)
The Ebola virus can cause severe illness and even death. There are no approved drugs or protective vaccines, but early care can improve survival. The 2014-16 Ebola outbreak in West Africa was an opportunity for researchers to test two experimental vaccines for safety and effectiveness. A previous report about one of the vaccines showed that it could induce immune responses in 40 healthy adults.
In early 2015, the researchers rapidly enrolled 1,500 men and women volunteers in Liberia who were 18 and older and had no reported history of Ebola virus disease. NIH's National Institute of Allergy and Infectious Diseases (NIAID) sponsors this U.S.-Liberia clinical research collaboration. The study's co-leaders are Dr. Stephen B. Kennedy of the University of Liberia-Pacific Institute for Research and Evaluation Africa Center, Dr. Fatorma Bolay of the Public Health and Medical Research at the National Public Health Institute of Liberia, and Dr. H. Clifford Lane, NIAID's clinical director. Results appeared on October 12, 2017, in the New England Journal of Medicine.
The volunteers were given injections of one of two test vaccines or a saline placebo. NIAID's Vaccine Research Center and GlaxoSmithKline co-developed one vaccine, called cAd3-EBOZ. The Public Health Agency of Canada engineered the other, rVSV-ZEBOV, and licensed it to a subsidiary of Merck & Co., Inc. Both vaccines underwent initial testing in patients at the NIH Clinical Center.
The volunteers provided blood samples before vaccination and for up to one year after vaccination. Investigators gauged immune responses by testing the samples for antibodies to the Ebola virus in a laboratory established in Liberia for this purpose.
At the beginning of the trial, 4% of participants already had antibodies to Ebola even though they had no known history of Ebola virus disease. One week after vaccination, immune responses to Ebola virus were modest with both vaccines. However, by one month, 71% of cAd3-EBOZ recipients and 84% of rVSV-ZEBOV recipients developed an antibody response. At one year, 64% of cAd3-EBOZ recipients and 80% of rVSV-ZEBOV recipients had antibody responses, compared to about 7% of those who received the saline injections.
These findings showed that both test vaccines could produce immune responses by one month after vaccination and that the immune response could last for at least one year. The researchers didn't detect major safety concerns. Some people who received the vaccines had temporary side effects. These included headache, muscle pain, fever, and fatigue.
"This clinical trial has yielded valuable information that is essential for the continued development of these two Ebola vaccine candidates and also demonstrates that well-designed, ethically sound clinical research can be conducted during an epidemic," says NIAID Director Dr. Anthony S. Fauci. "A safe and effective vaccine would be a critically important addition to classical public health measures in controlling inevitable future Ebola outbreaks."
Related Links
References: Phase 2 Placebo-Controlled Trial of Two Vaccines to Prevent Ebola in Liberia. Kennedy SB, Bolay F, Kieh M, Grandits G, Badio M, Ballou R, Eckes R, Feinberg M, Follmann D, Grund B, Gupta S, Hensley L, Higgs E, Janosko K, Johnson M, Kateh F, Logue J, Marchand J, Monath T, Nason M, Nyenswah T, Roman F, Stavale E, Wolfson J, Neaton JD, Lane HC; PREVAIL I Study Group. N Engl J Med. 2017 Oct 12;377(15):1438-1447. doi: 10.1056/NEJMoa1614067. PMID: 29020589.
Funding: NIH's National Institute of Allergy and Infectious Diseases (NIAID) and the Liberian Ministry of Health.