You are here
November 19, 2019
Sesame allergy common among children with food allergies
At a Glance
A new study found that about 17% of children with food allergies are also allergic to sesame.
Sesame antibody testing predicted the likelihood that a child had sesame allergy, suggesting it could be helpful for diagnosis.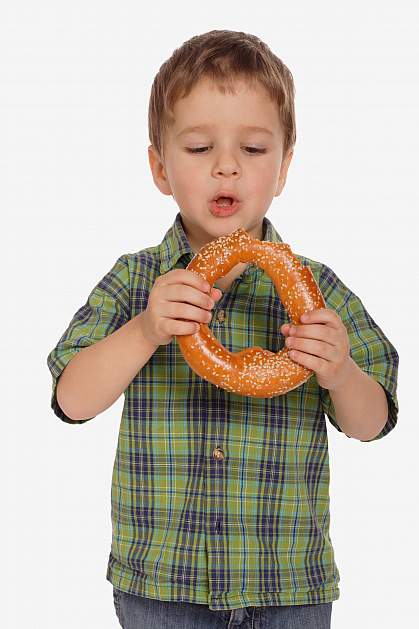 3sbworld / iStock / Getty Images Plus
Sesame allergy is one of the ten most common childhood food allergies. Reactions to sesame can be severe among children with the allergy. Only an estimated 20% to 30% of children with sesame allergy outgrow it. The Food and Drug Administration is currently considering whether to include sesame in the list of allergens that must be disclosed on food labels. Currently, Europe, Australia, and Canada do so.
Diagnosing sesame allergy has been challenging. Standard allergy tests—skin prick tests and blood tests of sesame antibody levels—have yielded inconsistent results in past studies. These studies have often included only children who were already suspected of having sesame allergy.
Researchers from NIH's National Institute of Allergy and Infectious Diseases (NIAID), led by Dr. Pamela A. Frischmeyer-Guerrerio, set out to determine how common sesame allergy is among U.S. children with other food allergies. They also asked whether sesame antibody tests could reliably predict allergic reactions to the seeds.
The research was funded by NIAID and NIH's National Cancer Institute (NCI). Findings were published on October 28, 2019, in Pediatric Allergy and Immunology.
The research team enrolled 119 children with documented food allergies. Some had recently had an allergic reaction to sesame or were known to tolerate sesame products, such as tahini or hummus, in their diet. Those whose allergic status to sesame was unknown were offered an oral food challenge, considered the gold standard for diagnosing food allergy. This involves eating gradually increasing amounts of sesame under medical supervision and seeing if an allergic reaction occurs.
Overall, 17% of the 88 children whose allergic status could be confirmed had a sesame allergy. The children with sesame allergy often had peanut and tree nut allergies as well.
The scientists then measured the amount of an antibody called sesame-specific immunoglobulin E (sIgE) in the blood of these 88 children. People with a food allergy will produce immunoglobulin E in response to the allergen.
Using this information, the researchers developed a mathematical model for predicting the probability that a child with a food allergy is allergic to sesame. They were able to identify a threshold of sIgE over which a child has a greater than 50% chance of being allergic to sesame. While more tests will be needed to validate this model, it's a promising step in diagnosing sesame allergy.
"It has been a challenge for clinicians and parents to determine if a child is truly allergic to sesame," says NIAID Director Dr. Anthony S. Fauci. "Given how frequently sesame allergy occurs among children who are allergic to other foods, it is important to use caution to the extent possible when exposing these children to sesame."
Related Links
References: Prevalence and diagnosis of sesame allergy in children with IgE-mediated food allergy. Sokol K, Rasooly M, Dempsey C, Lassiter S, Gu W, Lumbard K, Frischmeyer-Guerrerio PA. Pediatric Allergy and Immunology. 2019 Oct 28. doi: 10.1111/pai.13143. [Epub ahead of print]. PMID: 31657083.
Funding: NIH's National Institute of Allergy and Infectious Diseases (NIAID) and National Cancer Institute (NCI).