You are here
September 24, 2019
Peanut allergy protection limited after oral immunotherapy
At a Glance
After people with peanut allergy received oral immunotherapy to induce tolerance to peanut, most who discontinued or had a reduced dose lost the therapy's protective effects.
Researchers found markers in blood that could predict the success of therapy, suggesting a test to help identify those who could benefit from it.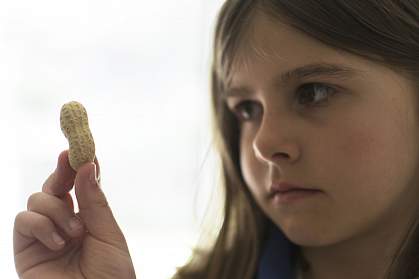 Mypurgatoryyears / iStock / Getty Images Plus
Food allergy affects up to approximately 8% of children and 4% of adults in the United States. When you have a food allergy, your body's defense system (the immune system) reacts to a component of a food as if it's harmful to the body. Symptoms vary and can range from mild to severe. You may experience an itchy mouth or throat, hives, vomiting, or stomach cramps. Some people have a life-threatening reaction called anaphylaxis, which may include trouble breathing and passing out.
Peanut is one of the most common food allergies nationwide. Previous studies have shown that peanut oral immunotherapy (OIT) can desensitize adults and children and prevent life-threatening allergic reactions. OIT involves ingesting small, controlled amounts of peanut protein over time.
To help determine the optimal duration and dose for OIT, a team led by Drs. Stephen Galli and Kari Nadeau at Stanford University carried out a three-year study with 120 participants, aged 7 to 55, who were diagnosed with peanut allergy. The research was supported in part by NIH's National Institute of Allergy and Infectious Diseases (NIAID). Results were published online on September 12, 2019, in the Lancet.
While otherwise avoiding peanut throughout the trial, 95 participants received gradually increasing daily doses of peanut protein (up to 4 grams). Twenty-five received a similar-looking placebo made of oat flour. After two years, the researchers assessed the participants' peanut tolerance with a food challenge: gradually increasing the amount of peanut in a controlled environment.
The researchers found that 83% of participants who received peanut OIT passed the challenge without an allergic reaction, while only 4% on the placebo did.
Those who passed the challenge were randomly assigned to receive either a reduced dose of peanut protein of 300 milligrams daily or to stop OIT altogether and take the oat flour placebo instead. One year later, only 37% of participants on the reduced peanut dose could still tolerate a 4-gram dose of peanut at a food challenge—and only 13% of those taking the placebo did so.
These results confirmed findings from smaller trials that suggested most participants didn't maintain peanut desensitization after stopping or reducing OIT.
Participants who passed the food challenges also had lower initial levels of allergic antibodies to peanut protein and other specific signs of allergic activity in their blood.
"We hope that, with more research, blood tests can help us predict who may respond to OIT treatment," says Dr. Alkis Togias of NIAID's Division of Allergy, Immunology and Transplantation. "Future studies will also focus on identifying the optimal OIT regimens to maintain protection from serious allergic reactions."
Related Links
References: Sustained outcomes in oral immunotherapy for peanut allergy (POISED study): a large, randomised, double-blind, placebo-controlled, phase 2 study. Chinthrajah RS, Purington N, Andorf S, Long A, O'Laughlin KL, Lyu SC, Manohar M, Boyd SD, Tibshirani R, Maecker H, Plaut M, Mukai K, Tsai M, Desai M, Galli SJ, Nadeau KC. Lancet. 2019 Sep 12. pii: S0140-6736(19)31793-3. doi: 10.1016/S0140-6736(19)31793-3. [Epub ahead of print]. PMID: 31522849
Funding: NIH's National Institute of Allergy and Infectious Diseases (NIAID); Sean N Parker Center for Allergy and Asthma Research at Stanford University; Myra Reinhard Family Foundation; Food Allergy Research & Education Center of Excellence; End Allergies Together; TripAdvisor Charitable Foundation; Crown Family Philanthropies.