You are here
March 1, 2016
Vaginal ring partially protects against HIV
At a Glance
A ring that continuously releases an experimental antiretroviral drug in the vagina safely provided a modest level of protection against HIV infection in women.
Expanding the number of HIV prevention options is important for women's health across the globe.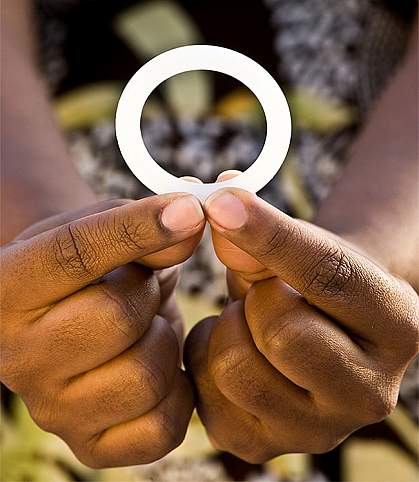 International Partnership for Microbicides
Women accounted for more than half of the nearly 26 million people living with HIV in sub-Saharan Africa in 2014. Unprotected heterosexual sex is the primary driver of the AIDS epidemic in this area. Finding effective HIV prevention tools for adolescent girls and young women is critical.
Dapivirine is an antiretroviral drug under investigation to prevent HIV infection. A research team led by Dr. Jared Baeten at the University of Washington investigated whether a sustained-release form of dapivirine delivery could protect women at high risk for HIV infection. The study, which began in 2012, took place at 15 sites in Malawi, South Africa, Uganda, and Zimbabwe. More than 2,600 HIV-uninfected women, ages 18 to 45 years, were enrolled. NIH's National Institute of Allergy and Infectious Diseases (NIAID) is the primary funder of the trial, called the ASPIRE study.
The women were assigned at random to receive either a silicone ring that continuously releases dapivirine in the vagina or a placebo ring. The women were asked to replace the rings once every 4 weeks. Neither investigators nor participants knew who received which ring until the end of the trial. All participants received HIV prevention services at each study visit. Services included HIV risk-reduction counseling, partner HIV testing, treatment of sexually transmitted infections in participants and their partners, and free condoms. Results appeared online on February 22, 2016, in the New England Journal of Medicine.
The dapivirine ring reduced the risk of acquiring HIV by 27% among all women enrolled in the trial. When the scientists excluded data from 2 sites where many women weren't returning for study visits or using the ring consistently, the ring reduced the risk of HIV infection by 37%.
The investigators found that the dapivirine ring reduced the risk of HIV infection by 61% in women ages 25 and older, but provided no statistically significant protection in women younger than 25 years. These younger women appeared to use the ring less consistently than other participants, based on the amount of dapivirine measured in the women's blood during study visits.
Further analyses found that the ring reduced the risk of HIV infection by 56% in women older than 21 years, but provided no protection for women ages 18 to 21 years. More research will be needed to understand these age-related disparities.
The rate of adverse effects was similar among women who received the dapivirine ring and those who received the placebo ring. The frequency of antiretroviral resistance in women who acquired HIV was also similar.
"To help bring about an end to the HIV/AIDS epidemic, women—especially those in sub-Saharan Africa—need multiple options for HIV prevention," Baeten says. "The ASPIRE study was an important step towards determining whether the dapivirine ring could become one such option."
An ongoing large multinational clinical trial called the Ring Study also tested the dapivirine ring for safety and efficacy in women. Both Ring and ASPIRE investigators announced similar findings on February 22, 2016, at the Conference on Retroviruses and Opportunistic Infections in Boston.
Related Links
References: Use of a Vaginal Ring Containing Dapivirine for HIV-1 Prevention in Women. Baeten JM, Palanee-Phillips T, Brown ER, Schwartz K, Soto-Torres LE, Govender V, Mgodi NM, Matovu Kiweewa F, Nair G, Mhlanga F, Siva S, Bekker LG, Jeenarain N, Gaffoor Z, Martinson F, Makanani B, Pather A, Naidoo L, Husnik M, Richardson BA, Parikh UM, Mellors JW, Marzinke MA, Hendrix CW, van der Straten A, Ramjee G, Chirenje ZM, Nakabiito C, Taha TE, Jones J, Mayo A, Scheckter R, Berthiaume J, Livant E, Jacobson C, Ndase P, White R, Patterson K, Germuga D, Galaska B, Bunge K, Singh D, Szydlo DW, Montgomery ET, Mensch BS, Torjesen K, Grossman CI, Chakhtoura N, Nel A, Rosenberg Z, McGowan I, Hillier S; MTN-020–ASPIRE Study Team. N Engl J Med. 2016 Feb 22. [Epub ahead of print]. PMID: 26900902.
Funding: NIH's National Institute of Allergy and Infectious Diseases (NIAID), Eunice Kennedy Shriver National Institute of Child Health and Human Development (NICHD), and National Institute of Mental Health (NIMH).