You are here
March 1, 2016
Hormonal therapy tested in older men
At a Glance
A preliminary study suggested that testosterone therapy may improve sexual function for some older men with low levels of testosterone.
Further study will be needed to gain a clearer sense of other benefits and risks.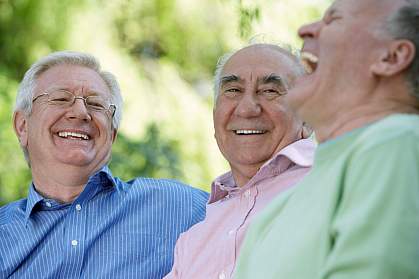 Liz Gregg/Photodisc/Thinkstock
Normal testosterone production varies widely. As men age, they often produce less testosterone than they did during adolescence and early adulthood. Many older men have testosterone levels well below those found in healthy younger men. Symptoms common with increasing age that could be related to low testosterone include diminished sexual function, physical function, and vitality.
The Testosterone Trials (TTrials) are a set of 7 trials designed to determine if testosterone treatment can alleviate symptoms associated with low levels of the hormone. The trials are a key step before considering larger, lengthier trials to assess long-term risks and benefits. The TTrials were initiated by NIH's National Institute on Aging (NIA) and are supported by NIA and other NIH components. Results for sexual function, walking, and vitality were reported in the New England Journal of Medicine on February 18, 2016. Results for other outcomes (cardiovascular, bone density, cognition, and anemia) will be reported in future papers.
A team led by Dr. Peter J. Snyder at the University of Pennsylvania School of Medicine enrolled 790 men, ages 65 and older, at 12 sites across the U.S. The men had serum testosterone levels consistently well below the average for young healthy men. For this set of 3 trials, low sexual function, difficulty walking, or low vitality were required for participation.
The men were randomized to receive testosterone gel or a placebo gel applied to the skin daily for 1 year. The trials were double blind—neither the participants nor the researchers knew who received which gel. Serum testosterone concentration was measured periodically for 12 months. The men were closely monitored for prostate and cardiovascular problems.
Among the men with low sexual function, testosterone treatment modestly increased sexual activity, sexual desire, and erectile function compared to placebo treatment.
Testosterone treatment didn't significantly affect walking ability among men enrolled in the physical function trial. However, among the men in all 3 trials, walking speed and distance did improve with testosterone compared to placebo.
In the men with symptoms of low vitality and fatigue, testosterone treatment didn't significantly affect fatigue symptoms. However, among the men in all 3 trials, those who received testosterone reported slight improvements in mood, energy, and depressive symptoms compared to those who received placebo.
The researchers found few adverse effects from testosterone treatment. However, larger and longer studies will be needed to better assess the risks of testosterone therapies in older men. The effects among men at high risk for prostate cancer and cardiovascular disease will also need to be considered, as these men were excluded from the trials.
"The results of the TTrials show for the first time that testosterone treatment of older men who have unequivocally low testosterone levels does have some benefit," Snyder says. "However, decisions about testosterone treatment for these men will also depend on the results of the other 4 trials." Older men considering a testosterone treatment should consult with a physician.
Related Links
References: Effects of Testosterone Treatment in Older Men. Snyder PJ, Bhasin S, Cunningham GR, Matsumoto AM, Stephens-Shields AJ, Cauley JA, Gill TM, Barrett-Connor E, Swerdloff RS, Wang C, Ensrud KE, Lewis CE, Farrar JT, Cella D, Rosen RC, Pahor M, Crandall JP, Molitch ME, Cifelli D, Dougar D, Fluharty L, Resnick SM, Storer TW, Anton S, Basaria S, Diem SJ, Hou X, Mohler ER 3rd, Parsons JK, Wenger NK, Zeldow B, Landis JR, Ellenberg SS; Testosterone Trials Investigators. N Engl J Med. 2016 Feb 18;374(7):611-24. doi: 10.1056/NEJMoa1506119. PMID: 26886521.
Funding: NIH's National Institute on Aging (NIA), National Heart, Lung, and Blood Institute (NHLBI), National Institute of Neurological Disorders and Stroke (NINDS), and the Eunice Kennedy Shriver National Institute of Child Health and Human Development (NICHD); and AbbVie Pharmaceuticals.