You are here
July 25, 2017
Microneedle patch for flu vaccine
At a Glance
A skin patch with dissolving microneedles works as well as a regular flu shot to deliver the flu vaccine to people.
Studies with more people are needed to confirm these findings.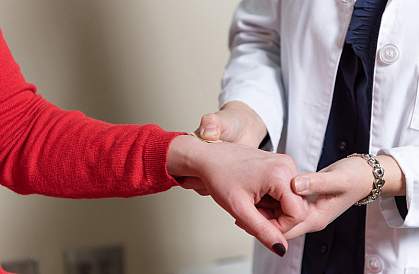 Georgia Tech
Each year, thousands of people in the U.S. die from the flu (influenza) and its complications. The most effective way to protect against the disease is with the yearly flu vaccine. However, only about 59% of children and 42% of adults 18 years and older got the 2015-2016 flu vaccine. To help increase vaccination rates, scientists have been developing technologies to replace the somewhat painful flu shot with nasal sprays and other methods.
A research team led by Drs. Nadine Rouphael and Mark Mulligan of Emory University School of Medicine and Mark Prausnitz of the Georgia Institute of Technology compared a flu vaccine delivered by microneedle skin patch to the usual hypodermic needle. The study was supported by NIH's National Institute of Biomedical Imaging and Bioengineering (NIBIB) and National Institute of Allergy and Infectious Diseases (NIAID). Results were published in the Lancet on June 27, 2017.
Prausnitz's team designed the dime-sized patch of microneedles used in the study. The patch consists of 100 solid, water-soluble needles that contain flu vaccine. The needles are just long enough to penetrate the skin. They dissolve within the skin in minutes. Unlike the liquid flu shot, the patch doesn't require refrigeration.
The researchers assigned 100 adults to four random groups: a flu vaccine patch applied by a health care provider; a flu vaccine patch applied by the study participant; a flu shot given by a health care provider; and a placebo patch applied by a health care provider. The team analyzed blood samples for immune responses to the flu vaccine. They found that immune responses were similar for those receiving a vaccine patch or shot. Even participants who applied the patch themselves showed robust immune responses.
Some people described faint redness in the area of their skin where the patch had been as well as mild itching that lasted two to three days. But overall, the researchers found that giving the flu vaccine by the microneedle patch was safe, with no serious related side effects. More than 70% of those receiving the patch said they would prefer the flu vaccine patch over the flu shot or nasal spray flu vaccine. "This bandage-strip sized patch of painless and dissolvable needles can transform how we get vaccinated," says NIBIB Director Dr. Roderic I. Pettigrew. "A particularly attractive feature is that this vaccination patch could be delivered in the mail and self-administered. In addition, this technology holds promise for delivering other vaccines in the future."
Animal studies suggest that the immune response to the flu vaccine may be stronger when delivered by a microneedle patch rather than by injection. However, larger clinical studies will be needed to assess the approach in people. Prausnitz has co-founded a company called Micron Biomedical that hopes to move the microneedle patch technology forward. "We now need to follow this study with a phase II clinical trial involving more people," Prausnitz says, "and we hope that will happen soon."
Related Links
References: The safety, immunogenicity, and acceptability of inactivated influenza vaccine delivered by microneedle patch (TIV-MNP 2015): a randomised, partly blinded, placebo-controlled, phase 1 trial. Rouphael NG, Paine M, Mosley R, Henry S, McAllister DV, Kalluri H, Pewin W, Frew PM, Yu T, Thornburg NJ, Kabbani S, Lai L, Vassilieva EV, Skountzou I, Compans RW, Mulligan MJ, Prausnitz MR; TIV-MNP 2015 Study Group. Lancet. 2017 Jun 27. pii: S0140-6736(17)30575-5. doi: 10.1016/S0140-6736(17)30575-5. [Epub ahead of print]. PMID: 28666680.
Funding: NIH's National Institute of Biomedical Imaging and Bioengineering (NIBIB) and National Institute of Allergy and Infectious Diseases (NIAID); Georgia Research Alliance.