You are here
Tenured Lasker Scholars
Jessica Gill, R.N. Ph.D.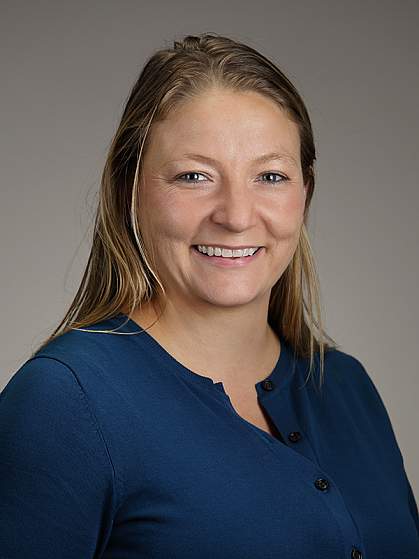 Acting Deputy Director, Senior Investigator, Former Lasker Clinical Research Scholar (2012-2018), and Chief of Brain Injury Unit, Tissue Injury Branch, National Institute of Nursing Research
Website: http://irp.nih.gov/pi/jessica-gill
Jessica Gill who was one of the first two Lasker Clinical Research Scholars in 2012, is investigating effective ways to identify trauma patients who are at high risk for psychological and neurological deficits. Her novel findings demonstrate the mechanisms underlying neurological symptoms and deficits in military personnel with traumatic brain injuries (TBI), as well as athletes with concussions. Her research laboratory uses leading-edge technology to identify and link omic biomarkers to neuronal damage through brain-imaging methods that are unique to the NIH. She continues to develop methods for identifying brain-injured patients who are at risk for a poor recovery. Her discoveries are providing the foundation for early interventions to prevent the often irreversible symptoms resulting from post-TBI neurological damage. She received her Ph.D. from the Johns Hopkins School of Nursing and School of Public Health (Baltimore) and did a postdoctoral fellowship at the National Institute of Nursing Research and the National Institute of Mental Health. Before coming to NIH, she was an assistant professor in the School of Nursing and Krasnow Institute for Advanced Studies at George Mason University (Fairfax, Virginia). Her outside interests include spending time with her husband and their three young children, hiking, skiing, and camping.
Christian Hinrichs, M.D.
Currently: Chief of the Section of Cancer Immunotherapy and Co-Director of the Cancer Immunology and Metabolism Center of Excellence at the Rutgers Cancer Institute of New Jersey, and Professor of Medicine at the Rutgers Robert Wood Johnson Medical School
Formerly: Senior Investigator, Experimental Transplantation and Immunology Branch, National Cancer Institute-Center for Cancer Research
Website: https://cinj.org/research/christian-s-hinrichs-md
Christian Hinrichs conducts basic and clinical research to discover and develop new cellular therapies for patients with cancer. He was the first to use T-cell therapy to cure patients with an incurable epithelial cancer—he used tumor-infiltrating lymphocytes to treat metastatic cervical cancer. His laboratory research has defined the importance of viral and non-viral tumor antigens in immunotherapy for viral cancers, which has important implications for how we study and treat these malignancies. In addition, he discovered the genes for T-cell receptors that target viral antigens and demonstrated that treatment with T cells engineered to express these receptors is safe and has clinical activity in advanced-stage cancers. Hinrichs earned his M.D. from the University of Missouri–Kansas City School of Medicine( Kansas City, Missouri). He trained in general surgery at the University of Missouri–Kansas City School of Medicine; surgical oncology at the Roswell Park Cancer Institute (Buffalo, New York); tumor immunology at NCI's Surgery Branch; internal medicine at the George Washington University School of Medicine and Health Sciences (Washington, D.C.); and medical oncology at NCI's Medical Oncology Branch. Before becoming a senior investigator, he was an assistant clinical investigator in the NCI Surgery Branch (2012-2015) and a tenure-track Lasker Clinical Research Scholar in the NCI Experimental Transplantation and Immunology Branch (2015-2020). Outside of work, he enjoys spending time with his family, listening to live music at local venues, and running.
Nehal Mehta, M.D., M.S.C.E., F.A.H.A.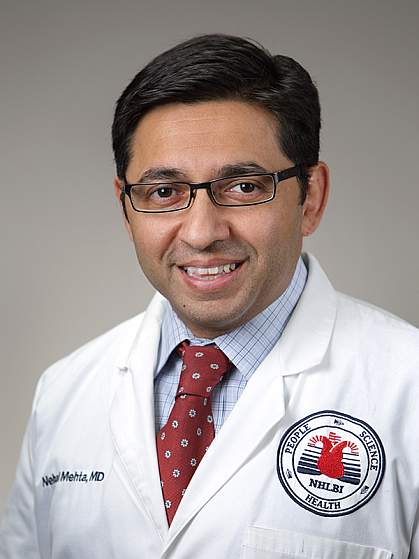 Senior Investigator, Former Inaugural Lasker Clinical Research Scholar (2012-2020), Section of Inflammation and Cardiometabolic Diseases, National Heart, Lung, and Blood Institute
Website: http://irp.nih.gov/pi/nehal-mehta
Nehal Mehta was the inaugural scholar in the Lasker Clinical Research Scholars program in 2012. His research focuses on the role of innate immunity and inflammation in the development of cardiovascular and metabolic diseases. Using a trans-disciplinary approach that involves genetic epidemiology, human translational studies, and novel cardiovascular-imaging approaches, he and his team study how inflammation affects insulin resistance, the development of metabolic syndrome, lipoprotein dysfunction, and atherosclerosis. He directs the largest ongoing cohort study to date in psoriasis (an inflammatory skin disease associated with increased cardiovascular risk) at the NIH Clinical Center to understand how waxing and waning inflammation contributes to atherogenesis. His team was the first to describe a link to neutrophils in atherosclerosis to psoriasis. Most recently, his team described the first in-human observation that treating psoriasis with biologic therapy reduces inflammation and improves coronary artery disease, a finding which received an NHLBI Orloff Science Award in 2018. He received his M.D. degree from the George Washington University accelerated biomedical program (Washington, D.C.) and completed his residency and fellowship training at the University of Pennsylvania (Philadelphia). He did a residency and chief residency in internal medicine; a fellowship in cardiovascular diseases, nuclear cardiology, and preventive cardiology; and a postdoctoral fellowship in genetic epidemiology with a focus on inflammation and lipoproteins. Before coming to the NIH, he was an assistant professor at the Perelman School of Medicine at the University of Pennsylvania; an attending cardiologist in the Hospital of the University of Pennsylvania's Coronary Care Unit; and the Director of Penn Medicine's Inflammatory Risk in Preventive Cardiology, a position he still maintains. He also is a clinical professor of medicine at the George Washington University where he provides care in the coronary care unit. His outside interests include spending time with his wife and their two young daughters, cooking, skiing, surfing, and traveling.
Armin Raznahan, M.D., Ph.D.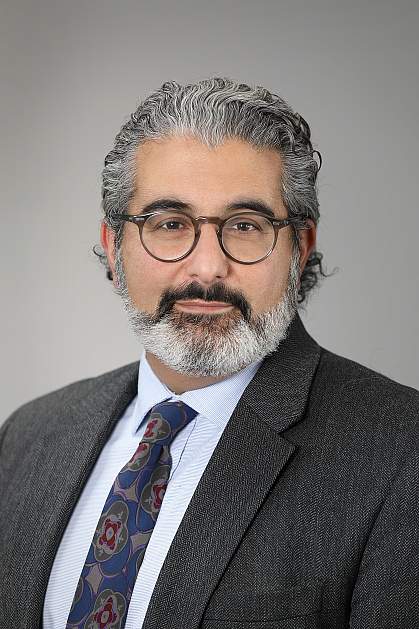 Senior Investigator, Former Lasker Clinical Research Scholar (2015-2020), and Chief of the Section on Developmental Neurogenomics, Human Genetics Branch, National Institute of Mental Health
Website: http://irp.nih.gov/pi/armin-raznahan
Armin Raznahan is striving to better understand the biology of childhood-onset neuropsychiatric disorders. Together with his colleagues and collaborators, he works toward this goal by integrating two broad approaches. First, he uses large-scale longitudinal neuroimaging datasets to study the architecture of brain development in healthy volunteers. By modeling how neuroimaging measures of the human brain vary with age, sex, and behavior in health, he hopes to advance basic developmental neuroscience while also providing a data-driven way of selecting neuroimaging measures that should be prioritized for study in atypically developing groups. Second, he uses a genetics-first strategy to study the relationship between atypical brain development and neuropsychiatric symptoms. This effort involves gathering deep-phenotypic data (spanning measures of gene expression, brain structure and function, psychophysiology, cognition, and behavior) in genetic disorders that increase risk for neuropsychiatric impairment. He harnesses these clinical data to empirically dissect the diverse biological pathways that can contribute to the emergence of neuropsychiatric syndromes. Themes of special interest within his Section include sex differences, evolutionary patterning, and structure-function relationships within the central nervous system. Raznahan earned his M.D. and Ph.D. from King's College, University of London (London). His training at King's College Hospital London included a medicine and surgery internship, an emergency room residency, and a residency in pediatrics. He also completed a residency in psychiatry at Bethlem Royal and Maudsley Hospitals (London); a clinical academic fellowship in child and adolescent psychiatry at Institute of Psychiatry, King's College London and at Bethlem Royal and Maudsley Hospitals; was a clinical research training fellow at NIMH and Institute of Psychiatry, King's College London; and a senior research fellow in the NIMH Child Psychiatry Branch. Before becoming a Lasker Scholar, he was a visiting scholar in the Neurogenetics Program at the University of California at Los Angeles; and a staff scientist and assistant clinical investigator at the NIMH Child Psychiatry Branch. Outside of work he likes spending time with his wife and daughter; cooking; listening to music; dancing; and "drinking from the hose that is Twitter."
This page last reviewed on April 21, 2021