You are here
Program Overview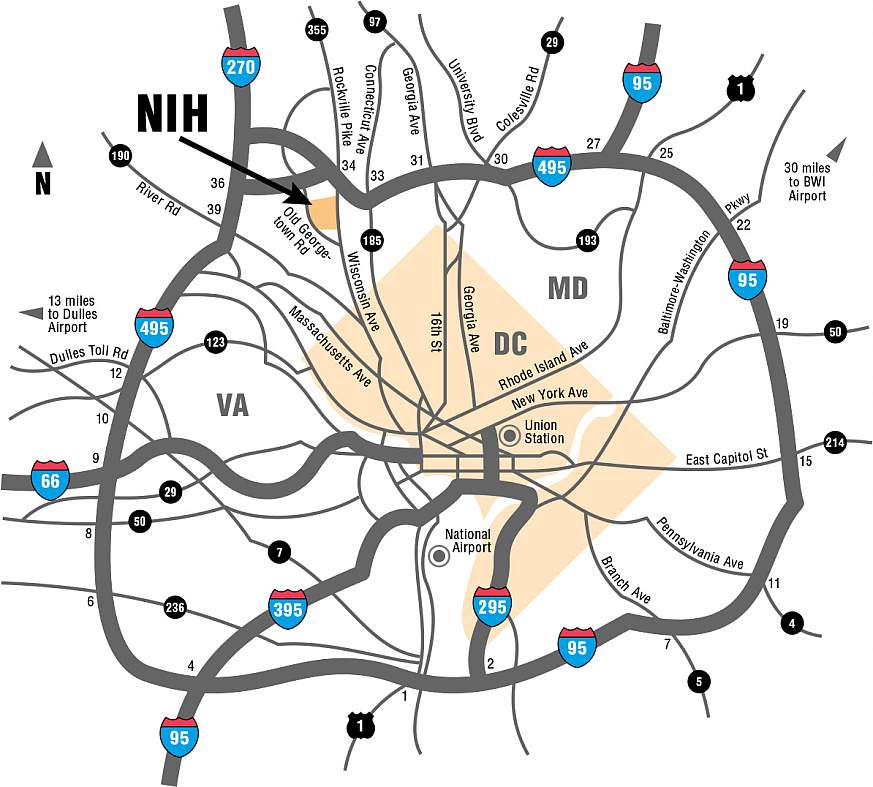 Richard Barnes / NIH
The Lasker Scholars program provides a unique opportunity for clinician-scientists to receive a combination of intramural and extramural NIH research support.
The program has two phases. The first phase will support scholars in the IRP for 5 years, with the possibility of an extension of this phase for an additional 2 years. Lasker Scholars will be appointed as independent tenure-track investigators within an NIH Institute or Center, a process that includes being hired as a full time employee at the NIH and completing the procedures required of new Federal government employees. The IRP will provide space, research expenses, full salary, and Federal employee benefits. Scholars will develop independent research activities over the course of their stay in the IRP, and will be formally reviewed by a panel of senior extramural investigators every 2 to 4 years to evaluate their research progress.
Upon successfully completing the initial IRP phase of the program, the Lasker Scholar will be eligible for two options in the second phase:
Option 1. Remain in the IRP with continued intramural funding and progression to tenured senior investigator status after appropriate assessment. Retention in the IRP will be dependent on the development of a mutual agreement between the Scholar and the IRP. Tenure at the NIH requires evaluation and approval by the NIH Deputy Director for Intramural Research.
Option 2. The Scholar can receive up to 3 years of support to continue independent research at an extramural sponsoring institution. This support is contingent upon obtaining an appropriate extramural position at an eligible institution, and the successful NIH programmatic review of the scholar's progress during the intramural phase of the award. Lasker Scholars can request direct costs of up to $499,000/year (plus applicable indirect costs). Scholars must complete 5 years of research in the IRP to be eligible for the extramural Lasker Scholars Grant.
Research Areas of Interest
The Intramural Research Program will give highest priority to those applications which propose research within the fields given below, listed by participating Institutes/Centers. Applicants are strongly advised to contact the Institute/Center scientific contact person listed in the Program Announcement, to obtain feedback regarding the programmatic appropriateness of their research to the goals of the NIH intramural research program.
National Cancer Institute
Medical oncology, pediatric hematology-oncology, radiation oncology, surgical oncology, pathology, neuro-oncology, urology and dermatology. Specific areas within these categories include genitourinary oncology, lymphoid malignancies, neuro-oncology, immunotherapy, women's cancers, aeoro-digestive cancers, molecular diagnostics, and functional imaging. 
Translational and clinical epidemiology, genetics of cancer
National Eye Institute
Neurodegenerative eye disease, neuro-immunology and immunometabolism
National Heart, Lung, and Blood Institute
Cardiovascular, blood, and pulmonary research
Pediatric and developmental biology
Cardiovascular research: heart failure, non-surgical interventional therapeutics, cardiovascular imaging, inflammation and cardiovascular disease, pulmonary hypertension, dyslipidemias, disease discovery research.
Blood research: myeloproliferative disorders, benign hematology, bone marrow failure syndromes, myelodysplastic syndromes, acute and chronic leukemias and other hematological malignancies, hematopoietic stem cell transplantation, cell based therapies to treat GVHD, malignancies, viral diseases, and bone marrow failure
Pulmonary research: pulmonary interstitial disease, pulmonary hypertension, airway inflammation and asthma, host defense mechanisms, rare lung disease, pulmonary nontubercular mycobacterial disease. 
Sickle cell research, gene therapy for sickle cell disease, novel therapeutics to prevent and treat vaso-occlusive crisis.
Cell therapy based treatments for tumors utilizing NK cells, T-cells, hematopoietic stem cells, and iPS cells.
Regenerative medicine utilizing iPSCs
Population Sciences Research
National Institute of Aging
National Institute of Allergy and Infectious Diseases
Clinical aspects of immunology and infectious diseases
National Institute of Arthritis and Musculoskeletal and Skin Diseases
Genetics, genomics, pathophysiology, prevention, and treatment of rheumatic diseases, particularly systemic lupus erythematosus, systemic vasculitis, inflammatory arthritis, inflammatory muscle disease, ankylosing spondylitis and spondyloarthropathies, and auto-inflammatory syndromes.
Psoriasis and inflammatory skin diseases.
Eunice Kennedy Shriver National Institute of Child Health and Human Development
Metabolic diseases
Bone growth and skeletal dysplasia
Endocrinology and molecular genetics
Regenerative medicine and stem cell biology
Reproductive and molecular medicine
Developmental biology and human genetics
Women's health
National Institute of Dental and Craniofacial Research
Craniofacial anomalies, including genetics, pathophysiology, and surgical therapies
Craniofacial regenerative medicine, tissue engineering, stem cell biology
Craniofacial and dental developmental biology and human genetics
Metabolic bone disease
National Institute of Diabetes and Digestive and Kidney Diseases
Gastroenterology
Nephrology
Endocrinology
National Institute of Drug Abuse
National Institute of Environmental Health Sciences
Metabolic diseases
Reproductive - puberty, estrogen effects, menopause
Women's health including bone health
Growth
Pulmonary diseases
Human genetics
Environmental exposures
Health disparities
National Institute of Mental Health
Psychosis - underlying neurological mechanisms, pathophysiology and potential therapeutics
National Institute on Minority Health and Health Disparities
Multidisciplinary studies of health disparities
Interactions between socioeconomic factors and race/ethnicity and their effects on health outcomes
Social and behavioral determinants of health disparities
The interaction of genetic, biological, social and behavioral factors in shaping disparities in risk factors, protective factors, and health outcomes.
National Institute of Neurological Disorders and Stroke
Any area of neurology or stroke
Neurosurgery
National Institute of Nursing Research
Symptom science/biology within a clinical context
This page last reviewed on March 9, 2018