You are here
September 13, 2018
Our Redesigned Site: Perspectives and Tools for Communicating Research Results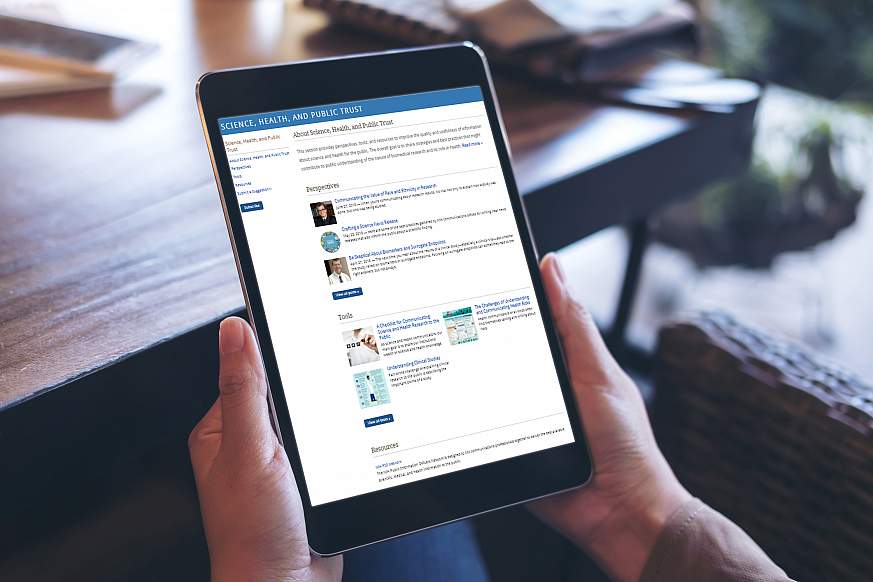 Farknot_Architect/iStock/Thinkstock
It's no secret that people are fascinated by health sciences research. They recognize the impact that research results can have on their lives and are curious about the latest findings. But communicating about research findings isn't a simple task. Scientific results often represent a small piece of a larger, often complicated puzzle that many research teams are trying to piece together. This process can come across to the public as messy and unclear. Worse, because research findings can sometimes appear contradictory, they may seem untrustworthy.
We first launched this section on the NIH website in 2016. At the time, two fairly recent communications challenges—the Ebola outbreak followed by the Zika outbreak—prompted the NIH communications team to think about building a platform to discuss how to communicate responsibly about biomedical research. We created Science, Health, and Public Trust to start a conversation among science communicators about how to convey complex research results to the public in ways that are clear, credible, accurate, and accessible.
We asked NIH's network of Public Information Officers (PIOs) about topics they would find helpful. PIOs at NIH-funded institutions around the globe play a key role in communicating health and science news to the public. We started working to produce posts discussing some of the concerns.
As the project evolved, two categories of posts emerged: perspectives and tools. We recently redesigned and relaunched the website to reflect these two categories.
The Perspectives section offers insights on biomedical communication from NIH experts representing different scientific fields. Examples include:
The Tools section provides useful aids like these:
We also have a new Resources section that links to other helpful sites both at NIH and beyond.
We'll continue to explore important issues in communicating scientific research and develop new tools to help support health and science communications for the public. We invite you to look around the redesigned site, subscribe to get alerts about new posts, and join the conversation by emailing us your thoughts and suggestions.