You are here
March 15, 2016
Benefits of peanut allergy prevention strategy persist
At a Glance
An early-life strategy for preventing the development of peanut allergy remained effective even after children avoided peanuts for a year.
Further studies are planned to determine whether the strategy will offer even longer lasting protection.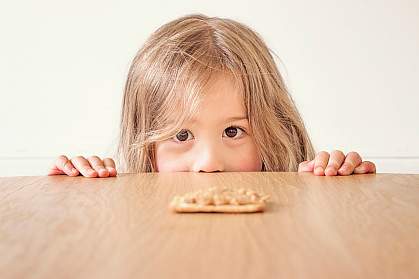 Barryj13/iStock/Thinkstock
Peanut allergy usually develops early in life and is rarely outgrown. It is the leading cause of death from food allergy in the United States.
In previous work, a research team led by Dr. Gideon Lack of King's College London tested whether regular consumption of peanut products early in life might help protect children from developing peanut allergy. That study, called Learning Early About Peanut allergy (LEAP), enrolled infants deemed at high risk for peanut allergy because they had severe eczema, egg allergy, or both. The researchers found that regular peanut consumption from infancy until 5 years of age led to an 81% reduction in peanut allergy.
LEAP-On is an extension of LEAP designed to determine whether continuous peanut consumption is required to maintain protection against peanut allergy. The researchers enrolled 556 LEAP participants: 274 children who had regularly consumed peanut-containing foods and 282 who had avoided peanut products. The participants were asked to avoid peanut consumption for one year.
After the avoidance period, at age 6, peanut allergy was determined by an oral food challenge. The study was supported by NIH's National Institute of Allergy and Infectious Diseases (NIAID) and conducted by the NIAID-funded Immune Tolerance Network. Results were published online on March 4, 2016 in the New England Journal of Medicine.
The team found that only 4.8% of the children who had regularly consumed peanut-containing foods during LEAP were allergic to peanut following the year of avoidance. In comparison, 18.6% of those who had avoided peanut all along were allergic.
The ability of children to avoid peanut-containing foods was high overall. This was assessed with a questionnaire and confirmed by testing for peanut protein in dust samples collected from participants' beds. Some of the participants who had eaten peanut products did occasionally consume peanut during the year-long avoidance period. This intermittent, low-dose peanut consumption didn't result in new cases of peanut allergy.
"The findings clearly demonstrate that the majority of infants who had consumed peanut in the LEAP study did in fact remain protected after they stopped eating peanut for 12 months, and that the protection was long-lasting," Lack says.
This year-long period of avoidance was longer than in other clinical trials of food allergy prevention. The results suggest that early peanut consumption induces long-term benefits. The investigators are planning longer-term follow-up to assess whether the benefits of regular peanut consumption early in life are maintained over many years.
"Parents of infants and young children with eczema or egg allergy should consult with an allergist, pediatrician or their general practitioner prior to feeding them peanut products," Lack advises.
Related Links
References: Effect of Avoidance on Peanut Allergy after Early Peanut Consumption. Du Toit G, Sayre PH, Roberts G, Sever ML, Lawson K, Bahnson HT, Brough HA, Santos AF, Harris KM, Radulovic S, Basting M, Turcanu V, Plaut M, Lack G; Immune Tolerance Network LEAP-On Study Team. N Engl J Med. 2016 Mar 4. [Epub ahead of print]. PMID: 26942922.
Funding: NIH's National Institute of Allergy and Infectious Diseases (NIAID); Food Allergy Research and Education, the Medical Research Council and Asthma U.K. Centre; U.K. Department of Health; National Peanut Board.