You are here
February 7, 2023
Bivalent boosters provide better protection against severe COVID-19
At a Glance
Bivalent booster vaccines against SARS-CoV-2 were 37% more effective than older booster shots at reducing the risk of severe COVID-19.
The increased protection against hospitalization or death was seen regardless of age or whether people had previously received a different booster.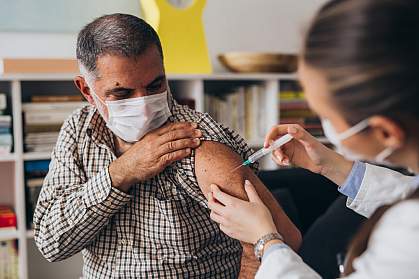 Dejan Dundjerski / Shutterstock
To date, more than 80% of people in the U.S. have received at least one dose of a vaccine against SARS-CoV-2, the virus that causes COVID-19. The original mRNA vaccines, developed by Moderna and Pfizer-BioNTech, targeted the initial strain of the virus.
Since then, different variants of the virus have evolved. These included Delta in 2020 and Omicron in late 2021. Subvariants of Omicron continue to emerge. Currently, ones called BQ.1, BQ.1.1, and XBB.1.5 predominate in the U.S.
In September 2022, both Moderna and Pfizer-BioNTech released updated booster shots. These are called bivalent boosters because they target both the initial strain of the virus and the original Omicron variant. The bivalent boosters were approved based on data showing they were safe. But whether they provide protection against current Omicron subvariants beyond that provided by the earlier booster shots wasn't known.
To help answer this question, NIH-funded researchers led by Dr. Dan-Yu Lin from the University of North Carolina looked at data collected by the North Carolina Department of Health and Human Services between May and December 2022. Omicron subvariants BA.4.6, BA.5, BQ.1, and BQ.1.1 predominated during this time.
The team looked at two study periods. The first was between May and the end of August 2022. During this period, almost 300,000 people aged 12 and older received one of the original booster shots in North Carolina. In the second period, between early September and early December 2022, more than one million received one of the new bivalent boosters. The researchers compared the incidence of severe COVID-19—defined as hospitalization or death from the disease—between the two groups from 15 to 99 days after receiving the boosters. Their results were published on January 25, 2023, in the New England Journal of Medicine.
The effectiveness of the original booster against severe COVID-19 was about 25%. The effectiveness of the bivalent boosters was 62%. Overall, the bivalent shots were 37% more effective at preventing severe COVID-19 than the original boosters.
Effectiveness was similar between the two different brands, and whether or not people had received one or more boosters previously. Protection from both shots peaked at about 4 weeks after administration.
"The increased effectiveness found in this study demonstrates why it's important for people to protect themselves with the updated booster even if they had already gotten the original booster dose," says research team member Dr. Zack Moore of the North Carolina Department of Health and Human Services.
—by Sharon Reynolds
Related Links
References: Effectiveness of Bivalent Boosters against Severe Omicron Infection. Lin DY, Xu Y, Gu Y, Zeng D, Wheeler B, Young H, Sunny SK, Moore Z. N Engl J Med. 2023 Jan 25. doi: 10.1056/NEJMc2215471. PMID: 36734847.
Funding: NIH's National Institute of Allergy and Infectious Diseases (NIAID).