You are here
February 7, 2023
Comparing heart failure drugs
At a Glance
A comparison of two drugs used to treat heart failure showed no difference in patient survival.
The results suggest either diuretic drug could be used to treat people hospitalized with heart failure.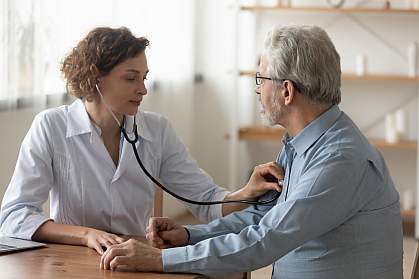 fizkes / Shutterstock
Millions of Americans live with heart failure, in which the heart can't pump enough blood to meet the body's needs. Heart failure often leads to fluid buildup inside the body, which can cause symptoms such as swelling and shortness of breath. This fluid buildup is usually treated with drugs called loop diuretics. These help your body produce urine and get rid of excess water. Furosemide, developed more than 50 years ago, is the most commonly used loop diuretic.
Recent data suggest that a newer loop diuretic, torsemide, may be better than furosemide for treating heart failure. Compared with furosemide, more torsemide enters the bloodstream, and it stays in the blood for longer. Torsemide also has other effects in the body that might benefit people with heart failure. But the evidence suggesting that patients on torsemide have a lower risk of death are based on small studies.
A team of researchers led by Dr. Robert Mentz at Duke University and Dr. Eric Velazquez at Yale University conducted a clinical trial to compare torsemide and furosemide in patients hospitalized with heart failure. The team recruited almost 3,000 patients from 60 hospitals nationwide. The patients were recruited between June 2018 and March 2022. They were followed for up to 30 months after treatment assignment. Participants were diverse; more than a third were women and a third Black. Participants were assigned at random to receive either torsemide or furosemide treatment before being discharged. Results appeared in JAMA on January 17, 2023.
After 30 months, a similar share of patients died in both groups—about 26%. The effect of torsemide versus furosemide on odds of death was not affected by age, sex, race/ethnicity, or various clinical factors. A combination of death and hospitalization was also assessed within the first 12 months, and both groups had similar rates—47% for torsemide versus 49% for furosemide. Total hospitalizations were similar between the two groups as well.
The researchers noted several limitations of the study. More than 100 participants withdrew from follow-up for various reasons. Some people switched treatments before discharge. Others stopped taking their medications. Still, the results suggest that neither drug is better than the other at preventing death or hospitalization in patients with heart failure. The high death rate among participants shows the need for better heart failure treatments in general.
"We're not saying that patients don't need diuretics. We're saying that there's no difference in the survival benefit of these two therapies," Mentz says. "This suggests we should be spending more time focusing on the right diuretic dose for our patients and working to treat patients with therapies that improve clinical outcomes in heart failure."
Related Links
References: Effect of Torsemide vs Furosemide After Discharge on All-Cause Mortality in Patients Hospitalized With Heart Failure: The TRANSFORM-HF Randomized Clinical Trial. Mentz RJ, Anstrom KJ, Eisenstein EL, Sapp S, Greene SJ, Morgan S, Testani JM, Harrington AH, Sachdev V, Ketema F, Kim DY, Desvigne-Nickens P, Pitt B, Velazquez EJ; TRANSFORM-HF Investigators. JAMA. 2023 Jan 17;329(3):214-223. doi: 10.1001/jama.2022.23924. PMID: 36648467.
Funding: NIH's National Heart, Lung, and Blood Institute (NHLBI).