You are here
Advances in Colorectal Cancer Research
Detecting Abnormal Growths in Colorectal Tissue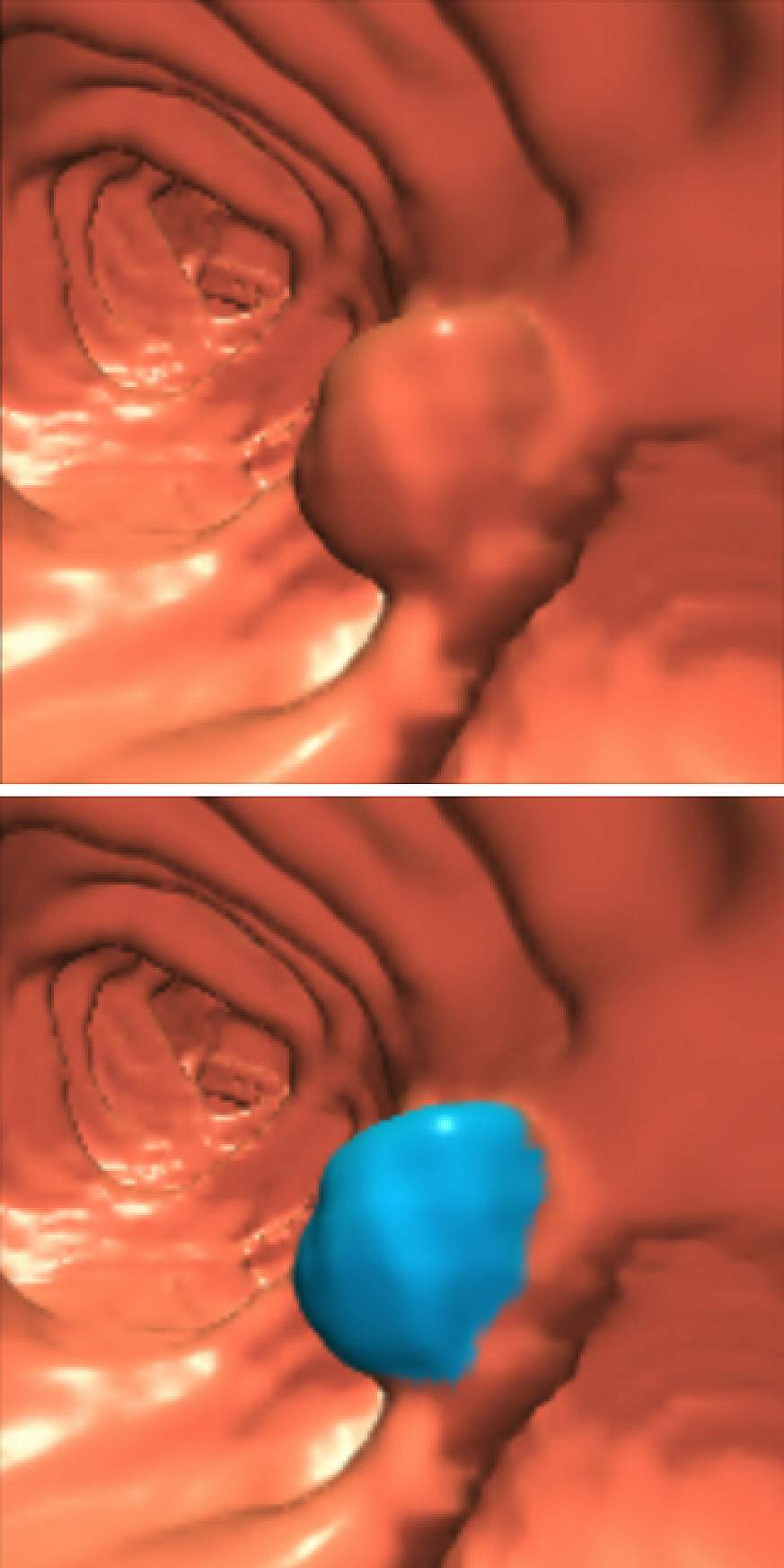 Clinical Center, NIH
From 1975 to 2000, the rates of colorectal incidence (new cases) and deaths in the United States declined by 22 percent and 26 percent, respectively. Approximately half of these declines is attributed to the introduction of colorectal cancer screening tests, such as the fecal occult blood test, flexible sigmoidoscopy, and optical (conventional) colonoscopy. If current trends continue, the decline in colorectal cancer deaths is projected to reach 36 percent by the year 2020. However, with accelerated cancer control efforts, including increased screening, a 50 percent reduction in colorectal cancer deaths is possible by 2020.
Despite the known benefits of colorectal cancer screening, the majority of Americans age 50 and older don't get screened, partly because of the perceived discomfort involved in tests such as flexible sigmoidoscopy and conventional colonoscopy. Therefore, in addition to trying to improve the utilization and accuracy of existing screening tests, researchers are striving to develop more-comfortable, less-invasive tests, such as virtual colonoscopy, colon capsule endoscopy (pill camera), and fecal DNA tests.
In virtual colonoscopy, also known as computerized tomographic (CT) colonography, x-rays and virtual reality technologies are used to create three-dimensional images and videos of the lining of the colon and rectum. Most colorectal cancers are thought to arise from abnormal growths, or polyps, that form from cells in the lining of the colon and rectum. If these abnormal growths can be detected and removed early, colorectal cancer can be prevented, ultimately reducing deaths from the disease. If colorectal cancer is found by screening before there are any symptoms, the disease may be caught at an early stage, when it is most treatable.
Several studies indicated that virtual colonoscopy can be nearly as accurate as conventional colonoscopy in detecting clinically important large colorectal polyps, but questions were raised about its ability to detect smaller polyps. Therefore, NCI sponsored the American College of Radiology Imaging Network (ACRIN) National CT Colonography Trial, a large multi-institutional study to compare the accuracy of virtual and standard colonoscopy. The ACRIN trial enrolled more than 2,600 participants at 15 institutions nationwide. Each participant had virtual colonoscopy followed by standard colonoscopy, with 99 percent receiving both exams on the same day.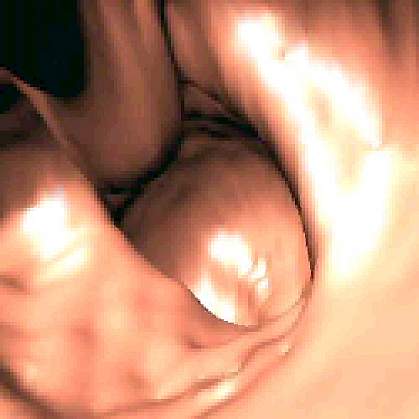 CT dataset courtesy of C. Daniel Johnson, MD, Department of Radiology, Mayo Clinic, Rochester, MN.
Because the trial participants received both examinations, the findings from the two types of colonoscopy could be compared directly. The results showed that virtual colonoscopy was highly accurate at detecting polyps of large and intermediate size. It detected 90 percent of the cancerous and precancerous polyps that were 1 centimeter or larger in size. As in previous studies, the technique's sensitivity declined with smaller growths. Overall, it identified 65 percent of the polyps half a centimeter or more in size that were detected by conventional colonoscopy.
Although virtual colonoscopy is not as accurate as the conventional procedure, it may be more appealing to many because it does not require the insertion of an optical colonoscope into the body and the sedation used for conventional colonoscopy. Both procedures do, however, require the same rigorous bowel cleansing procedure the day before the test, including laxatives and a clear-liquid diet. In the future, advances in technology may lessen the requirement for rigorous bowel preparation, increasing the appeal of both conventional and virtual colonoscopy.
To learn more about the ACRIN virtual colonoscopy trial, go to http://www.cancer.gov/newscenter/pressreleases/VirtualColonoscopyQA.
This page last reviewed on August 19, 2015