You are here
September 22, 2020
Biomarkers predict concussion recovery time
At a Glance
Researchers identified two blood proteins that are linked to length of time needed by college athletes to return to play following a sports-related concussion.
These blood biomarkers could help doctors predict which athletes need additional time to recover from a concussion.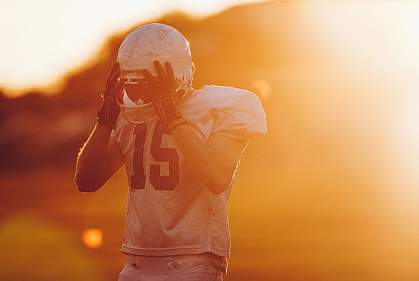 skynesher / E+ via Getty Images
Head injuries are a particularly concerning type of sports injury. There are millions of sports-related mild traumatic brain injuries, or concussions, in the U.S. each year. If you have a concussion, you may lose consciousness for a few minutes or experience a headache, confusion, lightheadedness, or dizziness.
Most people recover from a concussion within a couple of weeks. But some have symptoms that last for months. Returning to sports too soon can put you at increased risk for subsequent concussions, long-term symptoms, thinking problems, and even neurodegenerative disease.
Previous studies have found that certain proteins in the blood are associated with concussion or recovery time. These include tau protein, neurofilament light chain protein (Nf-L), and glial fibrillary acidic protein (GFAP).
A research team led by Dr. Jessica M. Gill of NIH's National Institute of Nursing Research (NINR) tested whether these three proteins could be used as biomarkers to predict length of recovery time. They studied 127 male and female collegiate athletes at six U.S. universities, including two military service academies, who had sustained a sports-related concussion. Results were published on August 27, 2020, in JAMA Network Open.
Researchers took blood samples from the athletes shortly after their injuries, when their symptoms resolved, and one week after returning to play. Each athlete also had preseason, baseline blood testing. Using an ultrasensitive assay called single molecular array technology, which can detect minute amounts of protein, the team examined levels of the three blood proteins.
Two of the proteins were associated with the length of time needed by the athletes to return to play: tau and GFAP. Athletes who needed less than two weeks of recovery time had significantly higher tau within the first 48 hours after an injury. In contrast, GFAP was significantly lower for these athletes. Nf-L was not linked with the length of time needed for recovery.
"This study is an important step toward the development of methods to predict which athletes need more time to recover from a concussion and resume activity safely. The findings may ultimately help reduce the risk of multiple brain injuries in athletes," Gill says.
More studies are needed to determine whether other factors affect these two proteins' predictive value for recovery time, such as severity of the concussion or physical damage to the brain.
Related Links
References: Plasma Biomarker Concentrations Associated With Return to Sport Following Sport-Related Concussion in Collegiate Athletes-A Concussion Assessment, Research, and Education (CARE) Consortium Study. Pattinson CL, Meier TB, Guedes VA, Lai C, Devoto C, Haight T, Broglio SP, McAllister T, Giza C, Huber D, Harezlak J, Cameron K, McGinty G, Jackson J, Guskiewicz K, Mihalik J, Brooks A, Duma S, Rowson S, Nelson LD, Pasquina P, McCrea M, Gill JM; CARE Consortium Investigators. JAMA Netw Open. 2020 Aug 3;3(8):e2013191. doi: 10.1001/jamanetworkopen.2020.13191. PMID: 32852552.
Funding: NIH's National Institute of Nursing Research (NINR); Grand Alliance Concussion Assessment, Research, and Education (CARE) Consortium; NCAA; Department of Defense.