You are here
October 20, 2020
Education programs may improve young children's asthma control
At a Glance
A combination of health programs at school and home appeared to improve asthma control in preschool children from low-income families.
More studies will be needed to find the most effective ways to help reduce asthma symptoms and deaths among children in the U.S.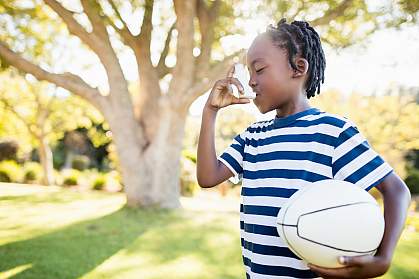 Wavebreakmedia / iStock / Getty Images Plus
Asthma is one of the most common chronic diseases affecting children in the U.S. About 5.5 million children currently live with the condition, which inflames and narrows the airways. Symptoms may include coughing, wheezing, tightness in the chest, and shortness of breath.
Every year, 1 in 6 children with asthma visit an emergency department, and 1 in 20 will be hospitalized due to severe asthma symptoms. Symptoms and deaths from asthma disproportionately affect low-income and minority children in the U.S. Preschool-aged children are most likely to need health care for their asthma.
Researchers led by Dr. Michelle Eakin from Johns Hopkins University tested whether a combination of school-based and home-based asthma education programs could improve asthma control for children aged 2 to 6. The trial was funded by NIH's National Heart, Lung, and Blood Institute (NHLBI). Results were published on October 5, 2020, in JAMA Pediatrics.
Participating children and their families were recruited from the Head Start program in Baltimore, Maryland. Head Start is a federal program that provides early childhood education, preventive health services, and nutrition programs nationwide. More than 95% of children recruited to the study were Black, and almost 90% had a family income of less than $40,000 a year.
The researchers randomly assigned 398 children and their families to one of two asthma education programs. The first group received asthma education within their Head Start schools. This included parent workshops, health fairs, and asthma education materials.
The second group received the same school-based asthma education plus a home-based family intervention called Asthma Basic Care. This included four in-home asthma education sessions and follow-up calls to reinforce symptom management, medication use, and other asthma control topics.
The researchers measured asthma control using the Test for Respiratory and Asthma Control in Kids (TRACK) score. The score measures the frequency of breathing problems and need for asthma medications.
Children in both groups experienced improvements in TRACK scores during the year after joining the study. Those from families who received the home-based education had greater improvements in asthma control during the first 3 months than those who only received the school-based program. However, this difference between groups wasn't sustained over the course of the year.
Children whose families received the home-based education were also less likely to be hospitalized for asthma symptoms than those in the school-only group. Both groups reported improvements in asthma-related quality of life.
"Identifying effective interventions for low-income and minority children is critical for reducing health disparities," Eakin says. "This study showed that multi-level interventions in community settings were effective at improving asthma outcomes."
Further research will be needed to optimize asthma education in different settings to help reduce the effects of asthma among children in the U.S.
—by Sharon Reynolds
Related Links
References: Effectiveness of a Home- and School-Based Asthma Educational Program for Head Start Children With Asthma: A Randomized Clinical Trial. Eakin MN, Zaeh S, Eckmann T, Ruvalcaba E, Rand CS, Hilliard ME, Riekert KA. JAMA Pediatr. 2020 Oct 5. doi: 10.1001/jamapediatrics.2020.3375. Online ahead of print. PMID: 33016987.
Funding: NIH's National Heart, Lung, and Blood Institute (NHLBI).